Playce OpenStack provides the environment optimized for operation management ranging
from basic features to auto installation, configuration, monitoring
for fault diagnosis and resolution, and the basic dashboard.
The OpenStack community measures maturity on seven scales, evaluating stability and sustainability
OpenStack is matured, proven with a total of six projects, maturity of 5 or above for over a decade, and 87% or higher rates of requirement application
The latest version is Ussuri completed by 1,100 individuals and 165 organizations

Key Features
Building of SDDC
(Software-Defined Data Center)

IaaS solution packaged OpenStack of OIF (Open Infrastructure
Foundation)
Configuration and deployment of Kubernetes of CNCF as Bare
metal/VM
Server virtualization/network virtualization/storage
virtualization
Real-time monitoring/logging

Containerized OpenStack

Kolla, which is OpenStack module turned to a container, was
used to provide stable and flexible infrastructure
Monitoring configuration using Prometheus/Grafana
Block storage/shared storage using Ceph
Main Function of Playce OpenStack
Playce OpenStack is the IaaS solution controlling the entire lifecycle of infrastructure.
Management of All Servers

Management of the entire lifecycle of infrastructure including Bare metal/VM/
Kubernetes

Network Separation/
Virtualization

Independent VM environment for each
function by separating VLAN and subnet
Load Balancing for VM/Kubernetes

Golden Image Deployment

Deployment of identical images to Bare
metal/VM/Kubernetes to create the
environment identical to the legacy environment

Environment Optimized for
R&D Support

Quick on-demand VM and container
environment service without hiring an
external hardware vendor

Real-Time Monitoring/
Logging

Building of the environment for admin's
instant fault monitoring and responses

Storage Virtualization

Storage virtualization through Ceph
Storage with maximized efficiency using
X86
Playce OpenStack Configuration
Playce OpenStack supports diverse configurations according to the environment of customers, including the HCI type, the SDDC type and the external storage connection type.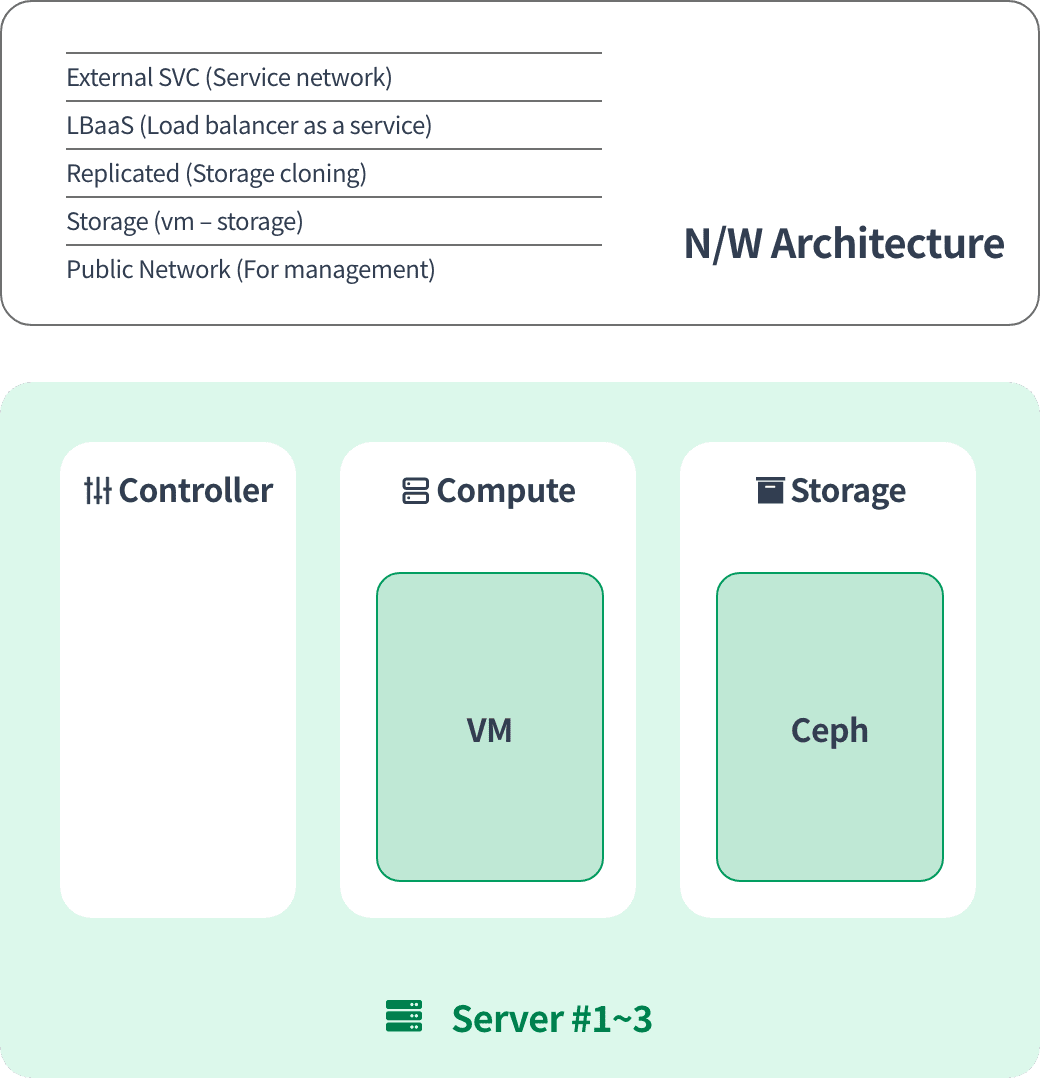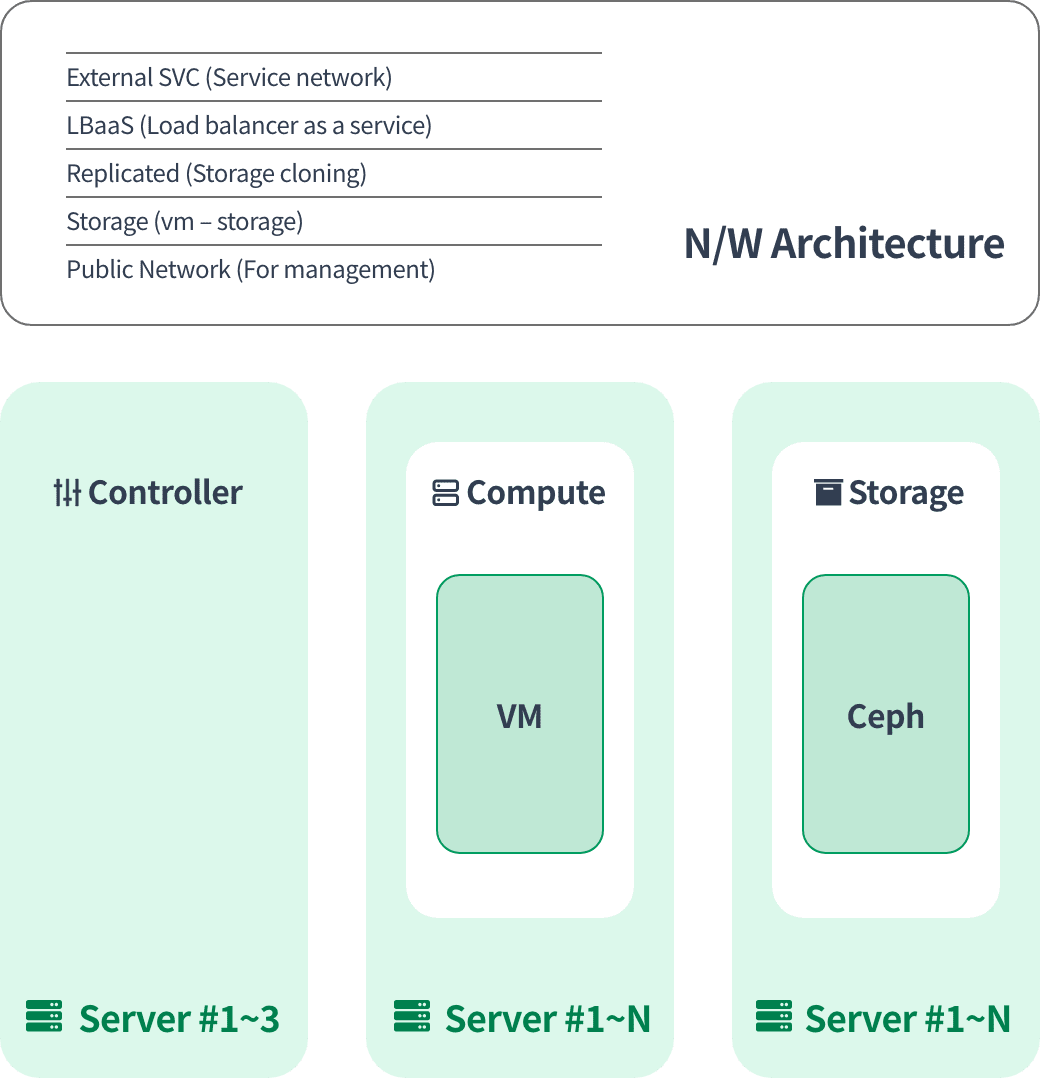 Playce Kube is a PaaS solution that enables automated operation management and easy deployment of applications based on Google-driven Kubernetes open source.
The application platform optimized for seamless application operation as one of the CNCF project
Standard container orchestration platform enabling comprehensive management and support of diverse containers
Key Features
Application environment and PaaS building

Building of the DevOps environment using Kubernetes and Nexus Repository
Monitoring configuration using Prometheus/Grafana
Building of the DevOps environment through CI/CD and service mesh
RBD/Shared file system service using Ceph

Combined with OpenStack

Combined with Playce OpenStack, Playce Kube provides the
infrastructure/platform service optimized for needs of customers
Improved operating efficiency and monitoring of Kubernetes and OpenStack
Main Function of Playce Kube
Playce Kube provides consulting and enables building and maintenance of the DevOps environment, based on Kubernetes.
Container Optimization

Container auto locating/disaster recovery/extension/deployment
Multi-cloud management
Catalogue-type deployment using
Helm Chart

Service Mesh/Monitoring/Logging

Monitoring and logging optimized for applications
Application monitoring/tracking through Service Mesh

Build/Deployment Automation

Development/staging/operation and deployment through the CI/CD pipeline
Building of the best DevOps environment using the latest CNCF packaging

Back-up/Recovery

Kubernetes cluster back-up/recovery
PV back-up/recovery
Cluster migration

Open Source
Packaging

Open source only packaging enabling tech transfer/maintenance and guaranteeing independence from vendors

Optimal Configuration
for OpenStack

Building of the optimal PaaS environment using Tenant/LoadBalancer features of OpenStack
Playce Kube Configuration
Playce Kube is an efficient PaaS platform providing minimum configuration for development through extended configuration.